Voices.com is Making HUGE Changes in 2021: What Should You Do?
By: Cody Stewart
From: Cody Stewart VO Blog
---
You may have received an email from a gentleman named David Ciccarelli today. David and his wife Stephanie are the co-founders of Voices.com. In the email, David details some enormous changes that him and the Voices team are making to their platform this year. As with anything, I'm certain there will be a ton of mixed emotions over the news. I for one am incredibly excited! To be frank though, regardless of how anyone feels about the new direction Voices is headed, it's happening, and there is a ton of stuff you can start doing right now to get ahead of the curve!
New Services
The first and biggest addition are the new work categories. If you've signed into your Voices profile, you've likely seen the message above; Voices is adding music production, audio production, and translation as new services that you can offer! This is reminiscent of Casting Call Club, except you don't have to worry about whether or not you'll actually get paid for your work. I don't like to talk about websites in a negative light, but anyone who has tried using Casting Call Club likely knows what I mean. As someone who has booked many voice acting gigs on Voices, I can safely say that I always feel secure that the jobs I'm auditioning for are legitimate and will actually pay me. I'm certain that the new work categories will be no different.
I personally do produce music and voiceover audio, so you can see why I'm incredibly excited for these new additions! If you do too, and you want to show off your skills, here is what you need to do!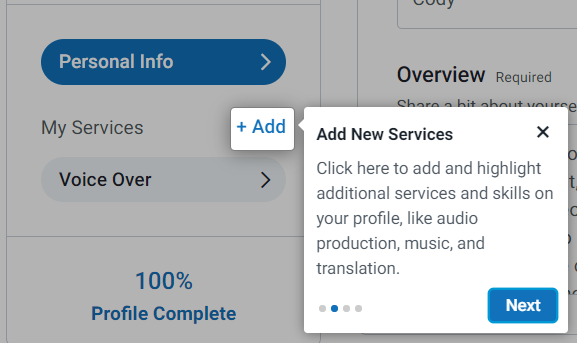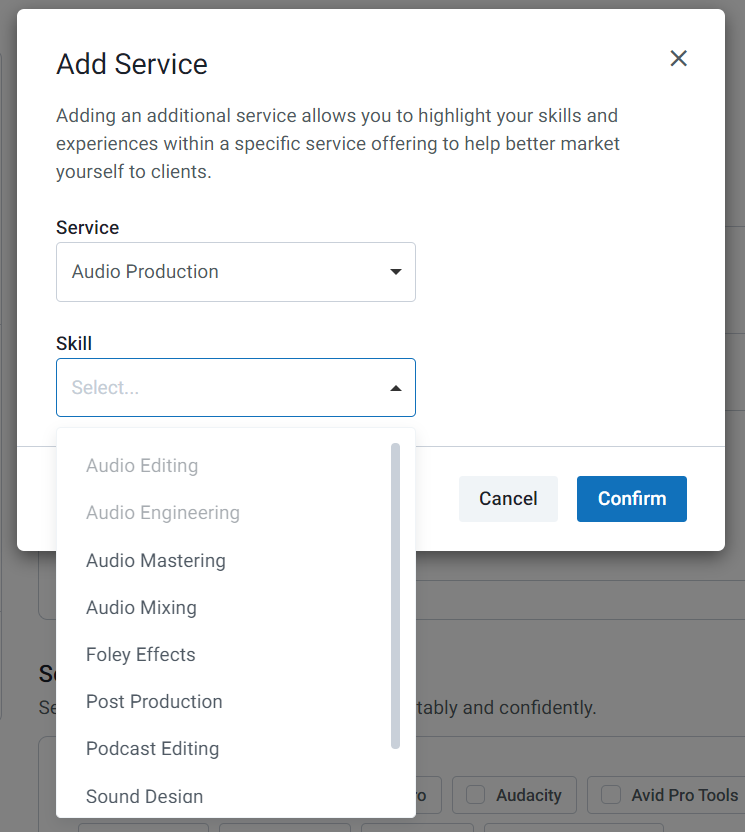 These new services don't technically launch until Q3 of this year, but make sure that you get ahead of the competition and update your profile now. Why? The clients you book between now and then may need these services for their project; seeing them appear on your profile alerts them of your capabilities. They may want to hire you through the Voices platform in Q3 or, if they need the services urgently, they may just ask if they can hire you for the secondary service through your personal website!
(There are a few upcoming affiliate links, just a heads up) If you don't possess these skills, but are interested in learning about Audio Editing in Izotope RX 8 or Audacity, feel free to reach out to me for a consultation on getting started in these categories. Izotope RX 8 feels like it's performing some type of voodoo witch craft on your files sometimes. It's truly spooky how I can remove mouth clicks, background noises, plosives, breaths, and all kinds of other unwanted sounds with little to no impact on the quality of the file. You can even get it through Splice for like $16/month right now!
New Categories
In addition to the new services, Voices is adding a few new categories for you to choose from when uploading demos. These include:
Medical narration

Audiobook narration

Corporate Narration

Documentary Narration

eLearning Narration
These changes don't seem to be live yet, but will be before the end of the year. How can you get ahead of this and why does it matter? If you didn't know, Voices sorts audition submissions by their "Voice Match" score when clients review them to choose their actor. This means, if your Voice Match for an audition is 100% and a competitors is only 90%, you will get listened to first.
Most voice actors agree, you increase your chances of booking a gig dramatically if you are among the first auditions listened to. Think about it from the perspective of the client; they're listening to tens or hundreds of people read the same script…over…and over. Some of the auditions are really good, some are really bad, most are in the middle and are sort of forgettable. From a psychological perspective, that client is likely to find an audition that they sort of like in the first 10-20, and will begin comparing all auditions after that one to the early standout audition. More often than not, that person will get shortlisted and be in the running for the role. Those that are listened to after that person now have to be "better than" that audition in the eyes of the client, those that are only "as good as" rarely stand a chance.
One of the primary elements that feed into your Voice Match score for any given audition is the number of demos you have that are relevant to that audition. For example:
In the image above, you can see I only have a 90% VoiceMatch score for this audition. This means that I will not be amongst the very first auditions this client hears when they review the submissions. As a matter of fact, if the client puts off listening to them for a few days and a bunch of 100% matched actors audition, I may not be in the first 15 or 20 even if I was the very first person to audition! This sounds disheartening, but understanding it can set you apart from other actors on the platform!
Take a look at some of the other highlighted elements of the image above. The role, style, and category are all elements that you can tag your demos with when you upload them. You can and should add many demos with tags that fit the kinds of jobs you want to audition for. The Voice Match algorithm will give you a boost in your Voice Match score by 10% for each of these elements, if you have demos with matching tags. The same is true for all other elements of the audition, although these three categories will likely have the most variation from audition to audition.
With this in mind, make sure you have plenty of demos on your profile and make sure you fill out ALL information when uploading demos. If you have interest in the upcoming categories, go ahead and add a few demos to your profile that fit them so you're ready to tag them when the new categories release!
Go read David's full blog for even more information on the upcoming changes!
Need new equipment? Check out my recommended beginner equipment list!